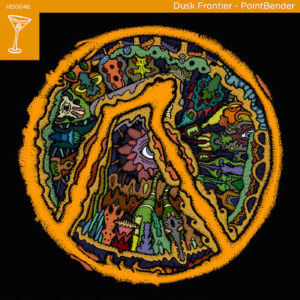 Harmonious Discord label boss and abstract artist PointBender returns with his third and most expressly creative full-length album yet. PointBender is the moniker of Sean Anderson, an independent artist living in Austin, TX who has been putting out back-pocket releases for over 15 years on imprints like Guidance, Thoughtless, Blaq, and his own imprint Harmonious Discord. Sean's third album is a project 1.5 years in the making with collaborations from Toronto based vocalist and Lal frontwoman Rosina Kazi, Texas based dub artist Vegenaut, and techno artist Matthew Thompson. Sean took a new approach to constructing this album, focusing on recording single takes of audio directly and limiting himself to outboard gear with minimal computer intervention. In addition, the album features a multitude of live instrumentation with recordings of guitar, bass, drums, and clarinet alongside some personal field recordings. Dusk Frontier embodies a new outlook and direction for Sean as an artist and showcases a taste of the future of the project.
Harmonious Discord 046 PointBender – Dusk Frontier
Intro to an Aircraft
Dusk Frontier featuring Rosina
Steam Morris
Brain Mud featuring Vegenaut
Passive Casio
Dub Creature
Pferd featuring Matthew Thompson
Three Complications
Listen:
Soundcloud: https://soundcloud.com/harmonious-discord/sets/hd046-pointbender-dusk-frontier-album
Purchase:
Itunes: https://itunes.apple.com/us/album/dusk-frontier/id1147482729
Beatport: https://www.beatport.com/release/dusk-frontier/1836972
Juno Download: http://www.junodownload.com/products/pointbender-dusk-frontier/3191142-02/
Traxxsource:
Intro to an Airplane is an ambient sound design experiment recorded and produced completely on an airplane using recordings of the air vents, people, and field noise with the aid of some heavy FX processing. The title song Dusk Frontier is a mixture of deep moods and cinematic overtures supported by driving percussion. Rosina Kazi showcases a wide range of vocal phrasing and complex harmonies over a field of growing synthesizer interplay. Splashes of percussion and bass slides help grow the space in between until the break where warming chimes drift the listeners into a greyed abstraction. Steam Morris is another deep selection focusing on smoky old world undertones. Live clarinet and evolving pads keep the mood pensive as support from drum machines and synths grows to complicate the mood. For Brain Mud, Sean teams up with Vegenaut, a cross-genre artist with a flair for off kilter glitchy dub works to create a messy slow burn with smooth bass and a competing mixture of leads and synth sketches. Passive Casio starts a nice divergence to rough and tumble urban techno jams. The song was recorded in a single session inside a beat machine with tons of automation and sound morphing. By the second breakdown the song is in complete chaos embodied by gritty distortion and staggered delays. Dub Creature is a canonical example of PointBender's signature cinematic sound. Tightly controlled dub chords build into a druggy midnight bouncer with bass slides and plenty of dark arpeggios. Pferd continues on the dubby theme with gargantuan bass and a variety of capped and swung drum fills. Likely one of the dancier of the pieces, Pferd works well as a dancefloor tool. We finalize the album with an 80's inspired emotional journey called Three Complications. Sean uses guitar and vocals to accompany the warm lush pads and arpeggios of that toe the line between an indie musical piece and a proper Balearic house song. While each selection has its unique lens and language the album as a whole is a thoughtful narrative on the boundaries of electronic music and the ability to abstract away from cemented dancefloor formulas.
Reviews
Nick Warren (Hope Recordings) – "An excellent album. 'Brain Mud' and 'Dub Creature' are very fine."
Atish (Desert Hearts / Robot Heart) – "'Dusk Frontier' has an amazing vocal, and 'Dub Creature' has a really nice deep waviness. Actually I like all the tracks in some way … quite a bit to explore here!"
Anthony Pappa (Red Light District / Bedrock / Audio Therapy / Renassiance) – "Cool EP. Some nice tracks here that will be used."
Noah Pred (Thoughtless, Get Physical) – "Points well bent, nice work!"
Signal Deluxe (Blaq) – "Love HD, Nice deep album!"
Deepchild (Thoughtless, FaceIIFace) – "Lovely, streamlined tech house from PointBender. The ambient work here truly excels…"
Left/Right (Punks Music) – "Steam Morris is a massive tune.  Cool Album!"
Omid 16B Nourizadeh (SexOnWax / ALOLA) – "4/5"
Joshua Collins (Human Nature) – "Great album like "Dub Creature" and "Three Complications" the best!!"
Luigi Madonna – "Great Music, Thanks!"
Kev Obrien (aka Manhattan Projject) – "Three complications is the one I think I would play, overall though some solid work on all these."
Massimiliano Pagliara (Live At Robert Johnson) – "Digging 'Three Complications'."
DJ Aldrin (One With Music, Singapore) – "Wow … nice one!"
Kazuumi Ishii (Electronic Directory, Japan) – "A deep yet beautiful album."
Adam Warped (Whiskey Pickle / Strange Days) – "Nice work. Really enjoying the drone like ambience of 'Intro to an Aircraft'."
P.M.FM (Deep Dive Corp.) – "Such a brilliant album! I´m still listening but already commenting because I´m really into this album and music!"
Alinep (Circle Music / Time in Manila) – "Big album here … all tracks are quality."
Harry Avers (NOICE!) – "Solid release … enough ear candy to listen to for days."
Joe Silva (Purespace / Tonepushers) – "Lots of interesting music here. Looking forward to more listens."
Jay Douzi (Runtomorrow) – "Digging this album … 'Steam Morris' is dope! I'm going to play it out this weekend."
Tariq Ziyad (Nu Urban ERA) – "A truly impressive musical journey. This is a great dance music album, the likes of which we used to get in the golden era. Excellent."
HighTower (JELEWA.de music blog + radio) – "full support for all tracks"
Hector De Mar (Liquid Music / Ritmik Records) – "Great pack, grabbing for my forthcoming sets!"
Jay Douzi (Runtomorrow) – "Digging this EP. Steam Morris is dope! Gonna play it out this weekend"
DJ Schugar (The Infusion Project / Whiskey Pickle) – "Excellent release! Really savoring every last drop"
lar3n (Noir Sessions) – "What a beautiful sound this is. Will certainly try some of the track on this album."
Simon Kirk (Proton Radio) – "Brilliant Album – Dusk Frontier really stands out for me. Great stuff."
Tee Cardaci (Low Down Grooves / Deep and Dusted) – "Lovely full length effort!"
Zach Van Lue (DJ Zach) – "Refreshing with musical depth"
Kazuumi Ishii (Electronic Directory) – "Deep, yet beautiful album"
Modernphase(Gameboyz) – "Yes! I like these vibes. Future Techno"
Nathan Evans (Nedj) – "An enjoyable listen from start to finish, this LP is full of variety. Each track offers a slightly different version of underground dance music from the last. With a track list as strong as this it's difficult to pick a favorite."
Liaoliao (liaoliao Radio / Of Life Labels) – "Nice release this with some cool tracks, looking forward to playing them out ! Big thanks !! Full support !!!"
Lee Guthrie (Click Therapy / Wiggle / Digital Dirt) – "Pferd, Dusk Frontier, Passive Casio all very nicely done."
Xyddhartha (Digital Gathering Radio Show) – "Precisely crafted!"
Esette (Substation Recordings / Habitat Living Sound) – "Loving Passive Casio & Three Complications. Fun release with lots of diversity."
Additional support by: Maceo Plex, Richie Hawtin, Orde Meikle (Slam), Dj Manos, Stefano Fasciani, Marco Carola, Jean Jarome, Ibiza Global Rado, Proton Radio, and Kiss FM Ukraine