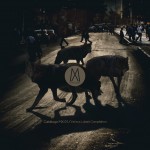 http://catalogomx.bandcamp.com/album/catalogomx-001
Los sellos independientes de México se siguen uniendo bajo CatálogoMX, espacio por medio del cual un buen número de plataformas del país que trabajan en estilos de los más heterogéneos dentro de la música electrónica, han decidido aunar fuerzas y hacer que la fiesta musical se vuelva más grande y trascendente. Y esto no es poco, por que ya de por sí varios de los sellos que forman parte de este emprendimiento estaban teniendo buena repercusión en México y el mundo, así que la suma es potente.
Entre varias actividades que están realizando, como por ejemplo presentaciones mezclando artistas de los diferentes sellos, están lanzando compilaciones. Hoy les compartimos la segunda, la "CatalogoMX 001″ (la anterior fue la 00), compuesta por el extraordinario número de 37 tracks, en estilos variados, como house, tech house, bass, post dubstep, ambient, downtempo, neo hip hop, disco house, techno, deep, 2 step, techno dub, IDM, neo juke house, minimal techno y jungle. La lista de los artistas y sellos es la siguiente: Bidi Clan (Bust A Dub), Yesco (Electrique Music), Dromme, Delia Ros & Raul Deval (Disclosure Crew), Gog y Yeyo (Louder Music), Christian Orlo (Dialtone Records), Nale Garcia, Juan Moreno (Ruter Netlabel), Teruel (Kreativa Records), Pinto & The Midnight Perverts, Yapacc (Neim), Lokier (Disque Discos), Marcelo Nassi (Infra Dig Records), Man Cor (Greenbeat Records), Lunar Sound (Undergroove Music), Mild Bang & Phonik (Xood Records), Pointbender, Ivan Dbri (Pantamuzik), Mr. Capman featuring Calvin Flame (Thirteen Moons Recordings), Alberto Beltra (Low Mute), Machino (Static Discos), Criss Narvaez (Central Dogma), Omar Labastida (Jet Alone), Bang Technologies (Sounds Of Earth), Alberto Santizzo (Nonpop Records), Val N Sky (Blaqnet), Totore (Triplet), Dirty Ganesh (Get It On Records), Wyno (Lowers Netlabel), Mokujin (Blaq Records), Lao (Extasis Records), Mixedfuckedup (Nucleo Roto), Proter Cahedro (WOS), Rifhes, Cesped (Techkilla), Isaac Maya ft Daddy Freddy (Lo Frequency), Dfender (Soulridaz), Daniel Klauser & Douster (NAAFI), Canoooooopy (PIRA.MD Records), Signal Deluxe (Abolipop Record), Kommodor (Suplex), Signal Deluxe (S3N53S).
Como ven, una apuesta fuerte.
El texto con el que lo están promoviendo aclara más que bien el objetivo: "Catálogo Mx lanza el compilado 001, donde ahora 37 disqueras mexicanas se reúnen con varios objetivos. Uno es traspasar las fronteras musicales ofreciendo a la gente un catálogo con una gran diversidad de géneros y subgéneros experimentales y electrónicos existentes, abriendo opciones y ampliando su conocimiento acerca de ellos.
Pero el mas importante sin duda es transmitir el mensaje de unidad y colaboración que mucho hace falta en estos tiempos locos y violentos, donde reina el individualismo y egocentrismo. Aquí se deja a un lado eso para dar paso a algo mas importante que un interés individual, y se pone manos a la obra en el trabajo colectivo, el cual es el único camino al progreso y revolución, no solo de México, si no de la humanidad. Esperamos este compilado sea de su agrado y les aporte algo mas."